Trends and Scenarios for Post-Soviet Eurasia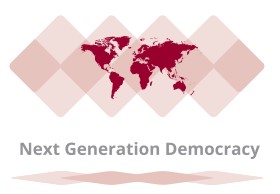 Two reports for the "Next Generation Democracy" project, a multi-stakeholder process under the coordination of the Club de Madrid, the world's largest forum of former democratic Presidents and Prime Ministers. The overall aim of NGD is to better enable democracy to meet the expectations and needs of all citizens and preserve their freedom and dignity while securing a sustainable future for generations to come.
NGD facilitates a discussion on the state and future of democracy in order to formulate both regional agendas and a global agenda, to reverse disquieting trends and advance democracy worldwide. The project progressively offers a comprehensive analysis of regional dynamics in democratic governance, a projection of relevant trends, and a compilation of transformative practices and transformative ideas to be discussed in a series of policy dialogues as well as through on-line exchanges. This will help generate collective responses, rather than fragmented and independent actions, and shape consensus around shared, forward-looking, action-oriented agendas.
NGD brings together in a direct and interactive manner expert assessments with the experienced perspectives of leading social, economic and political actors, including more than 100 Member of CdM, all of them democratically elected former Presidents and Prime Ministers from more than 60 countries.
Post-Soviet Eurasia – Regional Trends and Scenarios: NGD_Report_Brusis
My first report analyzes trends and projections in democratic governance from a predominantly socio-political perspective on the basis of a multidimensional template.
I have prepared this report as a basis for the discussion at the Policy Dialogue "Democracy and Human Rights in Decline? A Call to Action", co-organized by the Club de Madrid, the Bertelsmann Foundation and the Robert F. Kennedy Center for Justice and Human Rights (Florence, 23-25 November 2014).
My second report focuses on trends and scenarios for business and the economy in Post-Soviet Eurasia: NGD_Economy_Brusis