Panel Debate at the Bali Civil Society and Media Forum, Bali, Indonesia
The Bali Civil Society and Media Forum (BCSMF) took place in the framework of the 12th Bali Democracy Forum, a large meeting of governmental and non-governmental representatives mainly from Asian and Pacific countries. Its organizers, the Djakarta-based Institute for Peace and Democracy and the Indonesian Ministry of Foreign Affairs seek to make democracy a strategic agenda in the Asia-Pacific.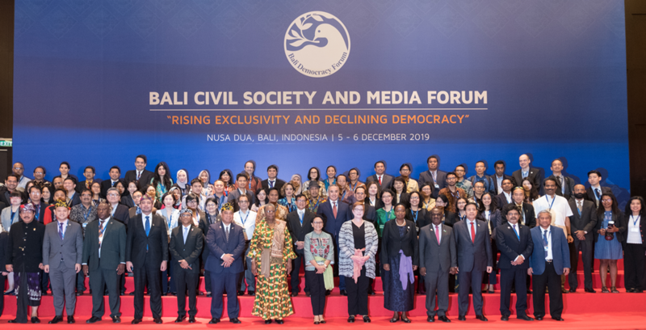 My contribution focused on how increasing social inequality contributes to weaken democratic accountability. Other panelists included Peter deSouza and Nejib Friji. The subsequent discussion was quite diverse, ranging from the role of technology in democracies over the accommodation of minorities, the rise of ethno- and religious nationalism, the participation of youth in democracy to the relationship between democracy and capitalism.
For example, participants asked what could be done by democracy supporters and civil society to prevent popular disappointment about the results of a transition to undermine the newly established institutions – such as in Malaysia? How to meet popular expectations and persuade citizens about the merits of democracy? How to deal with arguments, made for example by Thai army leaders, that security concerns require the exclusion of civil society to ensure the country achieves its aims of economic development? How to limit the political influence of powerful business actors and prevent an oligarchization of politics?